All media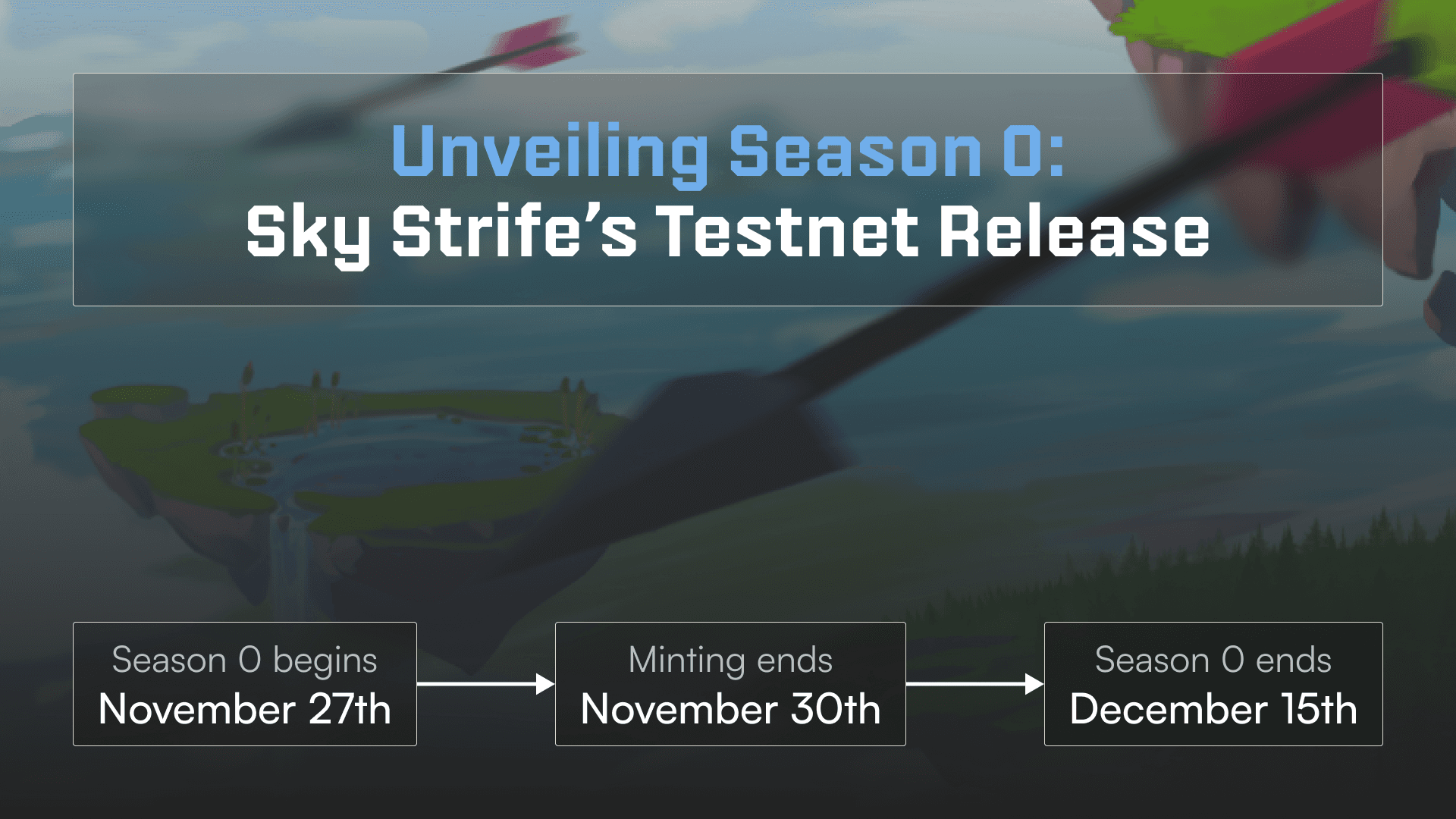 Unveiling Season 0: Sky Strife's Redstone Testnet Release
Introduction
The time is here — Sky Strife will be going live on the Redstone Holesky testnet for its first ever season, Season 0, in which players will be able to play matches of Sky Strife, earn 🔮, and create their own matches to play with friends (or onchain nemeses). It will be the first true test of the game's ability to facilitate an autonomous player base — and the precursor to our Redstone mainnet release.
What is Sky Strife?
Sky Strife is a fully onchain game featuring strategic and fast-paced gameplay that pushes the limits of what is possible to achieve on a blockchain. In the game, players compete on floating islands in fight-to-the-death matches to see who can be the last one standing, all while spawning new units and capturing strategic buildings.
Due to the limitations of building games on a blockchain, Sky Strife lands somewhere between being real-time and turn-based. Every unit is able to move once every 15 seconds, but during each 15 second "turn", players can move their units in real time. Additionally, this all happens fully onchain — every action you make is a transaction that resolves in two seconds or less, and with all of its state represented as feedback in the UI.
Thus far we've explained matches of Sky Strife, but this is only half the picture. Every match of Sky Strife exists in the broader world of Sky Strife that is fueled by an ERC-20 token: 🔮. This token is earned by winners of matches, and can then be used to create matches of all different kinds. We don't get into the nitty gritty of the 🔮's reward dynamics in this article, but you can learn about the full details in our How to Play Guide.
Season 0, Season 1
Season 0

Season 0 is the first test of Sky Strife's Season Pass system and will be launched on the Redstone testnet from November 27th to December 15th. It marks the first persistent playtest on Redstone, and the longest playtest Sky Strife has ever held.
Players will be able to mint a Season Pass for free in the first three days (November 27th – November 30th) of the season which will give them access to exclusive maps, the setting of entrance fees and rewards, and access to exclusive free matches that will be summoned everyday.
Season 1
Season 1 is where it gets real — a launch on mainnet, and this time will likely last a month. The Season Pass will have the same functionality, but this time for a price (which is TBD). We will be going live with Season 1 sometime in early 2024.
How was Sky Strife built?
Sky Strife was built by our in-house game studio at Lattice using MUD, our open-source framework for ambitious Ethereum apps and autonomous worlds. This makes Sky Strife maximally composable — allowing users to build custom clients, plugins, and extensions to the game.
Simply put, our dream is that the community built around Sky Strife runs with what we've started and turns it into something we could've never even imagined.
Conclusion
We hope this article has served as a nice introduction to Sky Strife and has made it clear what to expect in the coming months, but if you still have any questions or thoughts, feel free to pop into our Discord and ask the team.
See you on November 27th!